Support Services for Caregiver's

As a caregiver, you are learning as much as possible and doing whatever you can to help your loved one make the best decisions possible about their care. Cancer Treatment Centers of America® (CTCA) includes you in discussions about your loved one's treatment plan and gives you and your family helpful information about cancer, treatment options, managing side effects and overall health.
There are some immediate steps that caregivers should take during the post-diagnosis stage. Many say it is more difficult to be a caregiver than it is to be the one facing cancer. It is very important to take care of yourself during this process. Take a break, find moments of relaxation, find support for yourself. Find preliminary information by visiting the American Cancer Society's webpage for caregivers.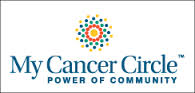 My Cancer Circle is a simple online tool that helps organize the community of people who want to help you. It coordinates their efforts to more efficiently support you and your loved one facing cancer.

CaringBridge transforms your personal connections into a powerful community of support when it's needed most. Start a free CaringBridge website to share health updates with family and friends who care and want to help.

Article from the National Cancer Institute about: When Someone You Love Has Advanced Cancer: Support for Caregivers